SoftechSoftware DLL v4.0.0.0
---
A MFC Extension DLL encapsulating almost all SoftechSoftware products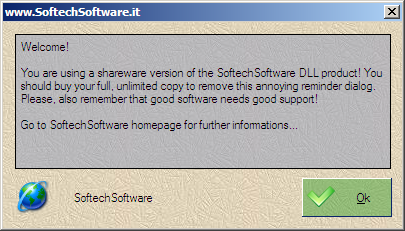 Why my application is showing this annoying dialog ?
In the past years SoftechSoftware has produced many free controls and code snippets.
All of this products were released with the full source codes included and hundreds of developers
all around the world have taken benefits using these easy and ready to use controls into their applications.
In return, SoftechSoftware asked only for a small money donation from developers. Unfortunately only a very limited
number of donations have been received from the large number of users that rely on SoftechSoftware products for their applications.
Producing and updating good software costs time. So it costs money. Also, maintaning a dedicated web site
costs time and money.

Starting from now on almost all SoftechSoftware products will be distributed into a single general use DLL. This DLL
will show an annoying dialog each time your application starts. Also, this demo DLL has resource and memory leaks that make
your target application unstable. You can use the demo DLL only for testing the SoftechSoftware product you are interested in.
Then if you decide to use this product into your application you must buy the full DLL version directly from SoftechSoftware.
Click here to get in touch with SoftechSoftware.
Which classes are included into the DLL ?
The SoftechSoftware DLL currently contains the following classes:


CButtonST
CBlendedButtonST
CKeyboardButtonST
CShadeButtonST
CStaticST
CBlendedStaticST
CXPStyleButtonST
CWinXPButtonST
CBkDialogST
CBkResizableDialogST
CCeXDib
CD3desST
CDigitST
CFileDialogST
CLayeredWindowHelperST
CListBoxColorPickerST
CListBoxST
CPageManagerST
CProgressCtrlST
CRegistryST
CResourceServerST
CThemeHelperST
CThrowEventST
A total of 23 great classes !
How much it costs ?
SoftechSoftware DLL source codes cost €450.00 (Four hundreds and fifty Euros).

You have to pay for the DLL only one time!
Once paid you will have the right of:
Full DLL source codes! Everything is included!
Use the DLL in as many as applications you need, without paying any extra money!
Redistribute the DLL along with your application
Derive your own classes for the originals exported by the DLL
Also, you will have the debug binaries of the DLL
Please take a look at the
download
page for further details.
How do I pay for the DLL ?


You can pay using the worldwide well-known PayPal service.

If you live in Italy other payment methods are also available.
Unicode builds ?
Are you in need to generate a Unicode build of your application ?
Download the full demo package of the SoftechSoftware DLL.

This package contains the following binaries:
Release
Release Unicode
Debug
Debug Unicode
New! 32 and 64 bits builds